Category Archives:
Juan Peron
Joaquin Flores is a spokesman for New Resistance, runs The Center For Syncretic Studies, and is a member of the Serbian Radical Party.
Topics include:
New Resistance
The Center For Syncretic Studies
How he started off on the radical left
Modern day Bourgeois Liberalsim
Bourgeois Nationalism versus Revolutionary Nationalism
Latin American movements such as the Sandinistas, Peronist, and Bolivarist
Why he chose Serbia as his center of operation
Why he predicts World War IV starting in Eastern Europe
The situation in the Middle East
European Nationalism and the New Right
The need for a Left/Right alliance against the Plutocracy

Click Here to download!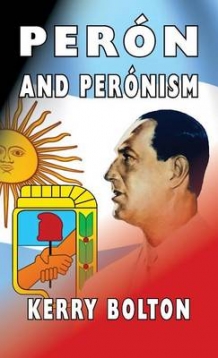 Robert Stark talks to Kerry Bolton about his book "Peron and Peronism," on Argentina's Juan Person and his legacy. "Peron and Peronism is published by Black House Publishing.
•Juan Peron's biography
•Third Position: opposition to both Communism and Capitalism
•Neutrality in the Cold War and support for non aligned nations such as Libya
•Peron's struggle against international finance
•Bank Nationalization and State Credit
•His views on Social Justice and how he provided social programs
•Person policies on the distribution of property
•How Peron was influenced by Catholic Social Teachers but opposed by the Vatican
•Justicialism
•Peron's influence throughout Latin America
•Hugo Chavez as a hybrid between Peronism and Marxism
•Peron's legacy and movements that claim his mantle
•The situation in the Ukraine
•Kerry Bolton's upcoming book on Francis Parker Yokey