Category Archives:
Argentina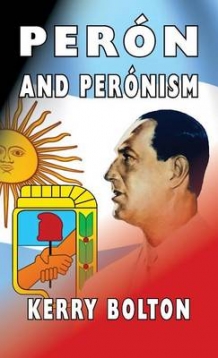 Robert Stark talks to Kerry Bolton about his book "Peron and Peronism," on Argentina's Juan Person and his legacy. "Peron and Peronism is published by Black House Publishing.
•Juan Peron's biography
•Third Position: opposition to both Communism and Capitalism
•Neutrality in the Cold War and support for non aligned nations such as Libya
•Peron's struggle against international finance
•Bank Nationalization and State Credit
•His views on Social Justice and how he provided social programs
•Person policies on the distribution of property
•How Peron was influenced by Catholic Social Teachers but opposed by the Vatican
•Justicialism
•Peron's influence throughout Latin America
•Hugo Chavez as a hybrid between Peronism and Marxism
•Peron's legacy and movements that claim his mantle
•The situation in the Ukraine
•Kerry Bolton's upcoming book on Francis Parker Yokey
Robert interviews Adrian Salbuchi. Topics include:
The current global economic system and the supranational financial oligarchy;
The economic history of Latin America;
The Argentine economic crisis and how it relates to the current US situation;
Economic alternatives other than capitalism & communism;
Politics and culture.
Adrian Salbuchi is a well known Argentine economist, author, and trends forecaster. His Web sites are found at ASalbuchi.com.ar and SecondRepublicProject.com. His new book written in English is called The Coming World Government: Tragedy and Hope? and can be ordered at this link.